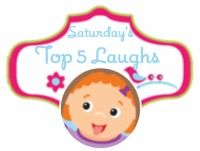 Happy weekend. What a trying few weeks we have had in our house. Natalie has been sick the last couple weeks. Just when I thought she turned the corner, she came down with a low grade fever and became very lazy for three and a half days. On Thursday she began to perk up, only to break out with a rash today. Poor little girl can't catch a break!!
On a happier note, I was able to celebrate my best friend's 30th birthday today. We had a delicious lunch, afternoon at the spa and ended the day with pizza and cocktails. I am very thankful to have Jen in my life and so happy to celebrate together!! While we were out, I realized that I didn't have five laughs and today provided me with two otherwise this would be the top three laughs :-)
5. Claire has started to act very grown-up lately. I guess that she knows she'll be three here in about 6 weeks. Ryan came home from work on evening and was greeted by a very emphatic Claire, "Hi Daddy, how was
your
day today? How was work?"
4. Natalie is becoming quite the little monkey. She loves to climb on anything in sight. Her favorite obstacles as of late are the little chairs. She climbs up, stands on the seat, squeals while jumping up and down. She is so proud of herself!
3. Jen told me the story that during a road trip one day, her daughter Addison (who will be three in May) passed a police officer who had his flashers on while assisting a broke down car. I honestly don't remember all the details to the story, but it went something like this:
Addison (from the backseat), "Mommy that guy is naughty!"
Jen: "The police officer is just helping since that guys' car is broken down."
Addison: "That guy is naughty. That pisses me off!"
I seriously laughed until I cried!
2. Claire still has her pacifier at naps/night and we often allow it first thing in the morning when she's laying on the couch watching cartoons. I am really over that thing and cannot wait for the paci fairy to visit. I often refer to it as "your
stinkin
' paci" since it often gets lost and we are looking for it at the most inconvenient times. One night before bed, we were looking for the said paci and Claire busts out, "Where is my s
tinkin
' paci?" She mimicked my tone perfectly and I thought Ryan was going to fall out of his chair laughing.
1. The last laugh is from today. At lunch we went dutch, both pulling out our (same) bank debit cards to pay our respective half of the bill. Then we went to a local sports bar for pizza and cocktails after our spa day. I was planning on treating Jen since we hit happy hour prices. When I got the receipt copy to sign, I realized Jen's name was on the signature line. We laughed that she actually treated us to dinner and drinks. We were quite thankful that we figured out our cards had been switched at that point as well. Then as we were leaving, I had the realization that I used 'my' bank card to pay for our spa afternoon, which of course meant that Jen had funded her own birthday celebration! I haven't laughed that hard all week, it brought me to tears!
Hope everyone has a good weekend! We have swimming lessons tomorrow morning and tomorrow evening birthday dinner with my younger brother - he's turning 21!!