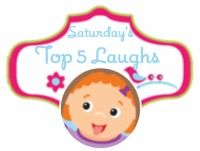 Welcome to the weekend!! This week was one where the days were long, but the week was short. I can't believe it is time to write my laughs for the week already!
5. We had our first snowfall of the season this past Thursday. I love how excited kiddies get over the first snow. When leaving daycare, I bundled Claire up so she could play in the snow on the way out. She was prancing around in the front yard, yelling "This is SO much fun! I love walking in snow, I love eating snow, I love playing in snow." It actually made me excited for the snow too.
4. The favorite after dinner activity in our house has been a dance party on our bed. Claire loves jumping, so jumping and dancing on our bed is right up her alley. It also seems that Natalie likes to jump (with Ryan helping her), she giggles uncontrollably (until she gets brutal hiccups and then continues to laughs some more). The squeals and laughs are enough to turn any day good!
3. Claire and I were watching Toy Story 2 one morning before Natalie woke up. I laughed at one of the adult jokes in the movie. Claire looked me dead in the eyes, stating, "That's not funny Mommy." This made me laugh even harder. She just kept looking at me like, why are you still laughing?
2. With Daylight Savings Time this week, our kids have had their schedule thrown out of whack. After both girls were down, Ryan and I were sitting down in the living room. I asked him if he thought that both girls would sleep through the night (Natalie has yet to do this since I've returned to work). Before he even had a chance to answer, Natalie let out a loud scream. We both cracked up and knew that the answer was no. Of course, both girls were up that night.
1. When I get home, I love to put on my 'comfy' clothes. Yoga pants and one of Ryan's shirts were the attire of choice for the day. Claire asked me why I was wearing Daddy's shirt. I said because it was comfortable. She then said, that's nice that you and Daddy share shirts. I agreed that it was good to share. She then asked, "Does Daddy wear your shirts?" I could hardly stop laughing long enough to tell her that Daddy wouldn't fit into my shirts.
Make sure you visit Melissa's blog and link up your laughs of the week!! I hope you have a wonderful weekend!!